Over 1000 Happy Customers

Express Delivery Available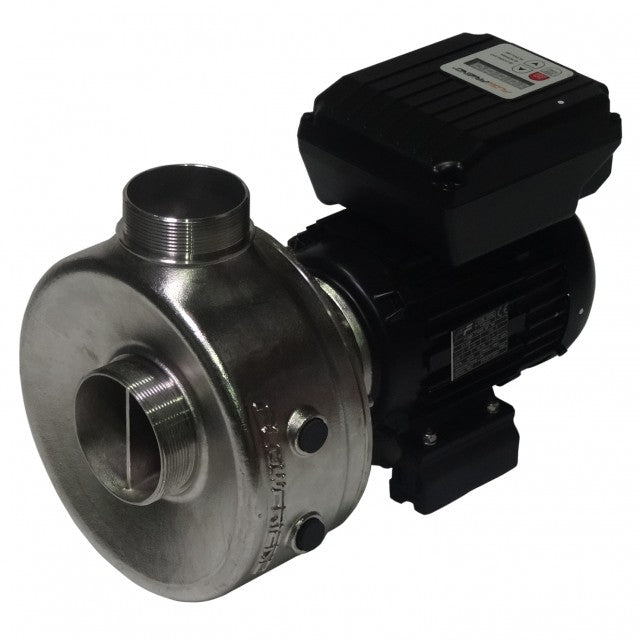 Flowfriend HP
Original price
£2,199.99
-
Original price
£2,199.99
The FlowFriend HP pump are way ahead in terms of pumping water energy efficiently. The FlowFriend HP (high Pressure) already today meets the highest MEI category of over 0.7. The MEI - Minimum Efficiency Index category is related to the efficiency of the motor, as well as the pumpÕs hydraulics and a directive was developed in 2012 to mandate the energy efficiency of water pumps.
To underline this extraordinary accomplishment, the EU has mandated a minimum MEI of 0.4 as compulsory effective July 2014.
The FlowFriend HP Pump Series:
extremely energy efficient
standard ow/rpm controls
optional 0-10V control
high flows at low energy consumption
extremely quiet
a highly efficient new generation of permanent magnet motor
3 different optimised pump housings, cast completely of stainless steel grade 316
optimal adjustment for versatile application
a premium efficiency IE4 motor
can be used anywhere in the world ranging from 100-240V/50-60Hz
The motor speed (600-2,550 rpm) can be adjusted as standard with every type of FlowFriend. The pump includes a display for this purpose that also shows power consumption and hours of operation. Every FlowFriend can also be controlled externally via an optional 0-10V port. The major benefit of permanent magnet motors compared to frequency controlled asynchronous motors is the remarkably high effuciency at low rpm. However, even at higher rpm, these pumps are significantly more efficient.
Ingenious pump housings
A pumpÕs hydraulics consist of the pumpÕs rotor and the pumpÕs housing. The FlowFriendÕs hydraulics are entirely made of cast 316 stainless steel. Robust, smooth and a perfect shape to keep internal losses to a minimum.
The hydraulics:
determine the pumpÕs total efficiency for the large part
determine the pumpÕs suitability for a particular use
The FlowFriend Standard
The standard FlowFriend has a mixed- ow pump housing, a type that is also often used at pumping stations. Its optimal field of application is for a pump lift of between 1 and 5 metres. The hydraulics have been designed such that greater pressure is available than with an axial (propeller) pump. As a result, significantly less energy is used in comparison to pumps of similar capacity.
Almost all pumps with high capacity have more than 10 metres of pressure. This high available pressure uses a great deal of energy. If there is higher back pressure to any extent, resulting for example from longer hose lengths, numerous bends and difference in height, then this ÔstandardÕ FlowFriend is the optimal choice. The FlowFriend has a 3Ó screw thread connection at both the suction and the pressure sides.
Motor and seal
The FlowFriend has a very high-quality Eagle Burgmann shaft seal. The motor has been designed in-house and is manufactured by one of GermanyÕs largest and most important producers of electrical motors. The motorÕs efficiency, depending on the RPMs, is between 88 and 94%.
Dry-running or submersible pump
The FlowFriend is a dry-running pump with a sealed shaft. This technology is superior from an energy and safety perspective to submersible pumps (in which the pumpÕs shaft rotates in water). This is why almost all pumps used for industrial applications are pumps with a sealed shaft. As with dry running pumps, the shaft and the stator are positioned extremely close to each other, they have significantly lower energy loss in operation by comparison with submersible pumps. Submersible pumps always require a compromise. If the distance between the stator and the shaft is very small, there is a high risk of damage due to dirt that is stuck between the shaft and the stator. However, as this distance increases, the pumpÕs energy losses increase quadratically.
If the stator in a submersible pump becomes damaged, direct contact between the core (with voltages exceeding 300V) and the water is possible. This is why a submersible pump is not recommended for applications in which people touch the water or swim in it.
The result
The pumpÕs performance can best be shown by means of pump graphs and specifications. The pump was tested at a testing facility that is compliant with the NEN-EN-ISO 9906 standard. The pump meets the European Directive 2009/125/EC (eco-design requirements for water pumps). See our brochure for graphs and specifications.
Is delivery free?
We offer free delivery on the majority of our products over £50. This excludes live fish and bespoke filters. Delivery to UK mainland addresses is £3.95 as standard, or £6.95 for express.
How do I return a product?
Get in touch via email or phone and let us know your problem, we will then help as much as possible. A postage address will be given for you to return the product back to us, and postage will be refunded where applicable to our terms and conditions, which are in line with consumer rights.
At Steel City Koi, we offer a wide range of safe and secure payment options when shopping with us.
Accepted payment methods:
Debit/Credit Cards (Inc American Express)
BACS (for faster dispatch of products) please get in touch for this
Cash upon collection *only for live fish
Pay Later options currently include Klarna and Clearpay