Over 1000 Happy Customers

Express Delivery Available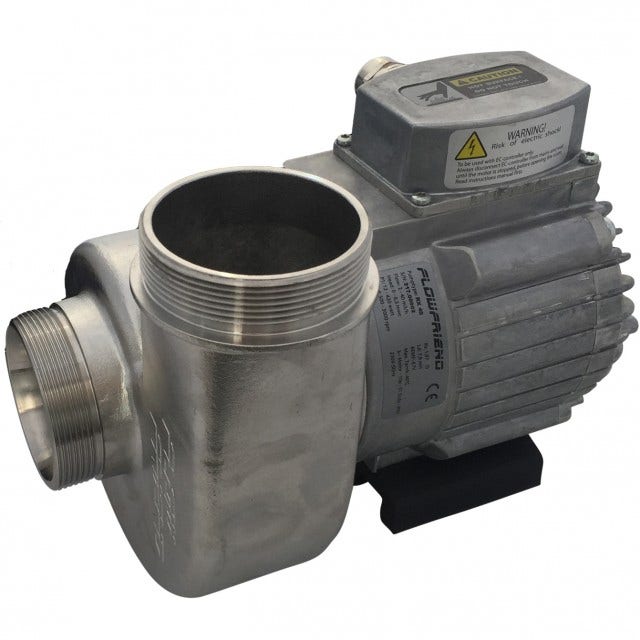 Flowfriend Junior
Original price
£1,999.99
-
Original price
£1,999.99
The FlowFriend range has now been further extended with the FlowFriend Junior. The FlowFriend Junior has much in common with the current FlowFriend models, but it also has a number of significant differences.
The most important difference in the construction of the FlowFriend Junior is that the motor and the control electronics are separated from each other. The motor complies with IP class 67 because the pump does not need a cooling fan. The electronics can be assembled in an easily accessible place and can be controlled remotely in a number of ways.
The control cabinet, pump and cable are fully EMC-shielded.
The extremely efficient design of the FlowFriend Junior has been retained. This means that hydraulic, motor and control electronics losses are all minimised.
The maximum efficiency of the hydraulics at full load is above 85%, that of the motor above 94% and for the control above 98%. The motor suffices with regard to the most recent, not yet officially released IE6 standard for energy efficiency.
The FlowFriend Junior key features:
Motor with IP67 protection class
Extremely energy-efficient
External controller - short-circuit resistance and IP66
0-10V/0-20mA/4-24mA external control
Adjustable 2-40 m3/hour/20-370 Watt/500-3000 rpm
Without fan - extremely quiet
IE6: latest generation permanent magnet motor (EC/BLDC)
7-metre pump head
Aluminium/Stainless Steel
Max. flow 40 m3/hr
Wattage - 10-37
Optional Bluetooth
Analogue inputs (0-10V/0-20mA/4-20mA)
Digital inputs IP66
The hydraulics in the FlowFriend Junior Pump are, just like in the other FlowFriend pumps, made of 316 stainless steel and of the mixed-flow type. This means a pump head of up to 7 metres and a flow adjustable to 40 m3/h so the pump has a large area of application for efficient use. The FlowFriend Junior Pump is fully adjustable (500-3000 rpm) using an external control system.
FlowFriend Junior Pump control electronics are supplied with short-circuit resistant control electronics and comes standard with the below:
The power consumption can also be read off with this control unit. The Junior can be remotely controlled using the many analogue and digital inputs.
The Flowfriend Junior Pump:
extremely energy efficient
standard RPM controls
high flows at low energy consumption
extremely quiet
highly efficient, new generation of permanent magnet motor
optimised hydraulics, cast entirely from 316 stainless steel
optimal coordination between pond and season
premium efficiency IE4 motor
motor developed and manufactured in Germany
can be deployed anywhere in the world
voltages ranging from 100-240V/50-60 Hz
Ability to adjust the Flowfriend Junior Pump RPMs (600-2550 RPMs) is a standard feature. The Flowfriend Junior Pump includes a display for this purpose that also displays power consumption and hours of operation. The major benefit of permanent magnet motors compared to frequency controlled asynchronous motors is the remarkably high efficiency at low RPMs. However, even at higher RPMs, these FlowFriend Pro Pump are significantly more efficient producing in excess of 35 m3/hr at only 350 watts !
Is delivery free?
We offer free delivery on the majority of our products over £50. This excludes live fish and bespoke filters. Delivery to UK mainland addresses is £3.95 as standard, or £6.95 for express.
How do I return a product?
Get in touch via email or phone and let us know your problem, we will then help as much as possible. A postage address will be given for you to return the product back to us, and postage will be refunded where applicable to our terms and conditions, which are in line with consumer rights.
At Steel City Koi, we offer a wide range of safe and secure payment options when shopping with us.
Accepted payment methods:
Debit/Credit Cards (Inc American Express)
BACS (for faster dispatch of products) please get in touch for this
Cash upon collection *only for live fish
Pay Later options currently include Klarna and Clearpay