Over 1000 Happy Customers

Express Delivery Available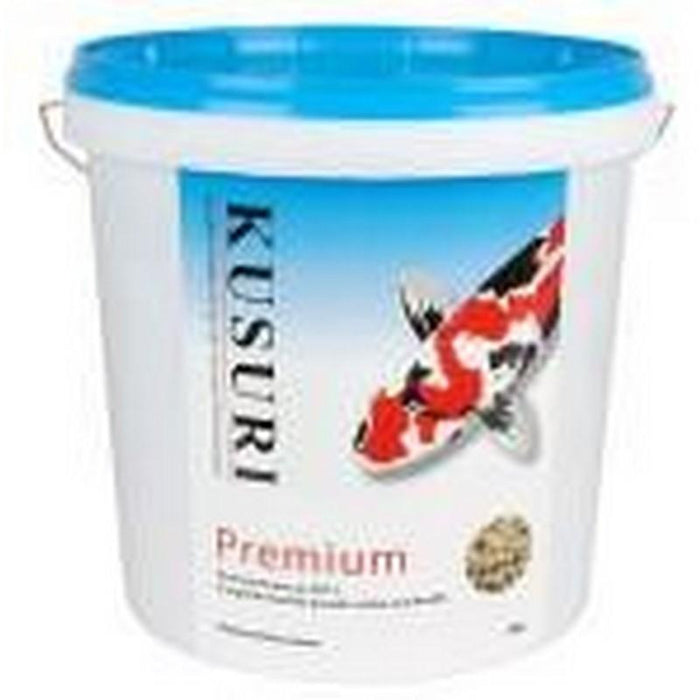 Kusuri Premium
Original price
£99.99
-
Original price
£99.99
5kg of Kusuri premium koi food.
Kusuri Premium pellet is the most popular food in the Kusuri range. A very high quality, immune enhancing, food for Koi.
We have formulated our food to provide the correct balance of ingredients for Koi. Kusuri Products are the only manufacturer to include Kusuri Klay in their researched food.
Exeter University Biology Department, 16 years ago, discovered that the addition of Kusuri Klayremoved stress proteins from the digestive tract. Stress proteins come from feeding food that contains airborne spores of Fungi and Algae. This subsequently inhibits the fish''¾'s ability to absorb and digest food efficiently, this can lead to poor growth and health.
Kusuri Klay has the effect of cleansing the digestive tract, allowing the high quality ingredients to be absorbed, keeping your fish happy and healthy.
Major Ingredients include:
Fish meal
Shrimp meal
Antarctic Krill
Soya bean meal
Wheatgerm
Kelp
Propolis
Spirulina
Kusuri Klay
Garlic
Brewers yeast
Fish oil
Vitamin A,Vitamin D,Stabilised Vitamin C,Vitamin E, Dicalcium Phosphate, Choline Chloride, Niacin, Riboflavin (Vit B2), Pyridoxine (Vit B6), Thiamine (Vit B1), Calcium Pantothenate, Biotin (Vit H), Folic Acid, Cobalamin (Vit B12), Inositol, Minerals (Magnesium, Zinc, Selenium, Manganese, Copper, Iron).
Basic analysis: Protein 37%, Oil 6%, Fibre 3.2%, Ash 9.7%, Moisture 10%.
Use:
Feed sparingly below 10°C (50°F). Only feed what is consumed within 10 minutes, removing any uneaten pellets after this time elapses to avoid polluting the water. Kusuri recommend all food containers are kept sealed at all times and stored in a cool dry environment. Never feed rancid food. Soaking pellets in water or fruit juice can aid better digestion.
Is delivery free?
We offer free delivery on the majority of our products over £50. This excludes live fish and bespoke filters. Delivery to UK mainland addresses is £3.95 as standard, or £6.95 for express.
How do I return a product?
Get in touch via email or phone and let us know your problem, we will then help as much as possible. A postage address will be given for you to return the product back to us, and postage will be refunded where applicable to our terms and conditions, which are in line with consumer rights.
At Steel City Koi, we offer a wide range of safe and secure payment options when shopping with us.
Accepted payment methods:
Debit/Credit Cards (Inc American Express)
BACS (for faster dispatch of products) please get in touch for this
Cash upon collection *only for live fish
Pay Later options currently include Klarna and Clearpay