Over 1000 Happy Customers

Express Delivery Available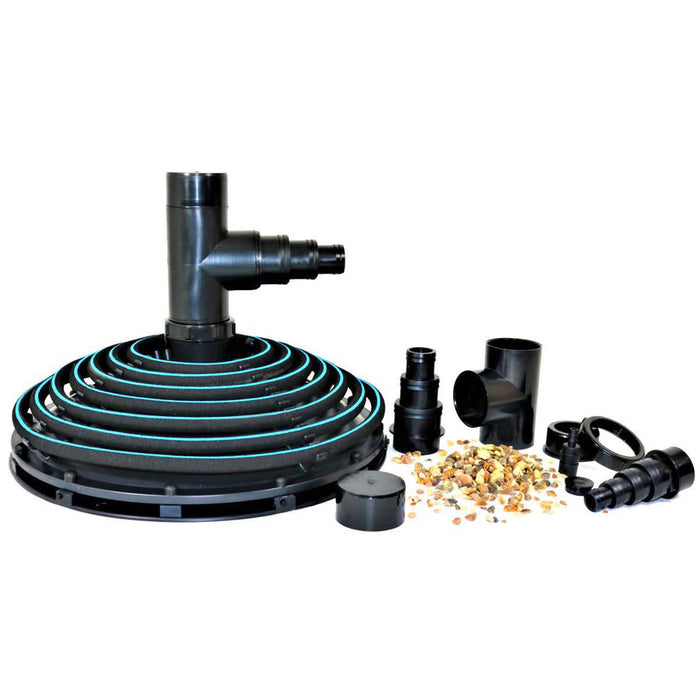 Aerated Retro-Fit Bottom Drain
Original price
£99.99
-
Original price
£99.99
Customers that have a new or existing pond but want the same fantastic benefits that a bottom drain gives you, without having to rebuild your pond, were the target market for the Weighted Suction Dome Range.


The water circulation around any pond will be significantly improved by weighted suction domes once they are linked.
Reduced maintenance is the result of the enhanced water circulation that helps remove dirt and suspended particles from the bottom of your pond.


There is no need to dig a hole or make one in the middle of your pond liner.
Put it there simply, in the pond's lowest point.
A weighted suction dome operates in a manner very similar to a sump drain, drawing sediments and detritus from the pond's bottom right into the filter.


The Weighted Suction Dome line is simple to maintain and clean, and each model is equipped with a Base Plate that is positioned at the ideal height to provide the most draw across the pond's bottom.
Therefore, there are no concerns about flow limitation even if the bottom of your pond is not perfectly level.


What is included in the kit for the weighted suction dome?

Your Weighted Suction Dome is shipped with a matching bag that contains all the components need to operate with either a gravity-fed system or a pump-fed system.
attachments for fitting to 56mm/2" or 43mm/1.5 rigid pipe.
Two different sized hosetails are also included in the fitting bag; these will go with flexi hose sizes up to 20mm (3/4").
-25mm(1")
-30mm-32mm(1.25")
-40mm-43mm(1.5")
56mm/2"- 50mm Tee Joiner, 56mm/2" Spinner, 56mm/2" Threaded Nut, 56mm/2" "O" Ring
lowering Bush

• 10 metres of 6mmID/13mmOD; 56mm/2" Blank End Cap and Pipe Spigot; 56mm/2"-43mm/1.5" Reducing Bush; 43mm 4 Stepped Hosetail; 50mm 3 Stepped Hosetail
Airline


A Pump Fed Filter System: What Is It?

Water is pumped from your pond to your filter system in a pump fed filter system.
When, for example, your filters are taller than your pond.


A Gravity Fed System is what?

In a gravity-fed system, the water will drain from your pond into your filter system using only the power of gravity, eliminating the need for an additional water pump.
Please be aware that only if your filter system is lower than your pond will this be effective.


Does a larger-sized pump need to be used with the weighted suction dome?

There is no additional size of pump needed for the weighted suction dome.
The product will function with whatever pump size that you deem appropriate for your system.


The hosetails provided have been made to accommodate 7 common diameter hoses for use with a pump.
Check the hose size you intend to use, trim the hosetail to the appropriate size, then deburr the cut for best flow.

43mm
Hosetail (Small) (Small)
20mm(3/4")
-25mm(1")
-32mm(1.25")
-38mm(1.5")

50mm
Large Hosetail, 32 mm (1.25")
-40mm-50mm


Why Would You Use Aerated Version?

The Aerated Versions truly offer everything.
the Weighted Dome's excellent suction qualities with the benefit of aeration.
The "uplift" mechanism used by moving water to remove particles and debris increases its removal efficiency by 30%.
Aquatic and plant life benefit from higher oxygen levels, which also help to remove toxic gases.


The dome with weighted suction
A perforated dome is incorporated into rubber membrane.
To maximise aeration, this surface area is maximal.


installing a pump for air.

For adequate performance, we advise using an air pump between 10 and 20 LMP.

Simply connect your air pump to the airline that is connected to the weighted suction dome.
Place the airline's tip in warm water for a brief period of time to make installation easier, then force the airline onto the desired fitting.
Is delivery free?
We offer free delivery on the majority of our products over £50. This excludes live fish and bespoke filters. Delivery to UK mainland addresses is £3.95 as standard, or £6.95 for express.
How do I return a product?
Get in touch via email or phone and let us know your problem, we will then help as much as possible. A postage address will be given for you to return the product back to us, and postage will be refunded where applicable to our terms and conditions, which are in line with consumer rights.
At Steel City Koi, we offer a wide range of safe and secure payment options when shopping with us.
Accepted payment methods:
Debit/Credit Cards (Inc American Express)
BACS (for faster dispatch of products) please get in touch for this
Cash upon collection *only for live fish
Pay Later options currently include Klarna and Clearpay