Over 1000 Happy Customers

Express Delivery Available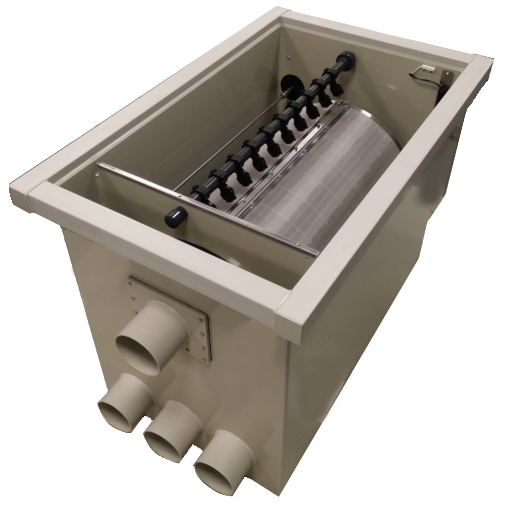 BD 700 Drum Filter
Original price
£3,249.99
-
Original price
£3,249.99
Product Description
As standard in the Burtons range, these drums come with a 60-micron screen, and a weatherproof auto control box, which now comes complete with our socket panel as standard which means you can just simply plug your UV and pumps straight in to the sockets for easy installation.
These drums feature 3 x 110mm inlets and 3 x 110mm outlets.
This drum filter is fitted with a cover switch, which cuts power to the drum motor and UVs when the lid is lifted off.
Low wattage wash pump included and pre fitted.
Installation height above water level is 25cm.
2 x 80-watt Uvs can be added. Our drums are all designed to have Uvs fitted inside the filter. As well as stopping green water Uvs inside the drum help keep the drum screen clean resulting in less cleaning cycles. If the correct size Uv is added thereÕs no need for additional Uvs to be fitted to your pond.
Suitable for flow rates up to 75,000lph for gravity fed systems and 55,000lph for pump fed systems.
Low energy consumption 1.3watts in standby mode and 200 watts when cleaning.
Dimensions (WHL) 658 x 740 x 1180 (MM).
Designed and manufactured in the UK by Burtons.
If adding Uvs to this unit you will need 1 stainless steel Uv fitting per Uv.
Is delivery free?
We offer free delivery on the majority of our products over £50. This excludes live fish and bespoke filters. Delivery to UK mainland addresses is £3.95 as standard, or £6.95 for express.
How do I return a product?
Get in touch via email or phone and let us know your problem, we will then help as much as possible. A postage address will be given for you to return the product back to us, and postage will be refunded where applicable to our terms and conditions, which are in line with consumer rights.
At Steel City Koi, we offer a wide range of safe and secure payment options when shopping with us.
Accepted payment methods:
Debit/Credit Cards (Inc American Express)
BACS (for faster dispatch of products) please get in touch for this
Cash upon collection *only for live fish
Pay Later options currently include Klarna and Clearpay