Over 1000 Happy Customers

Express Delivery Available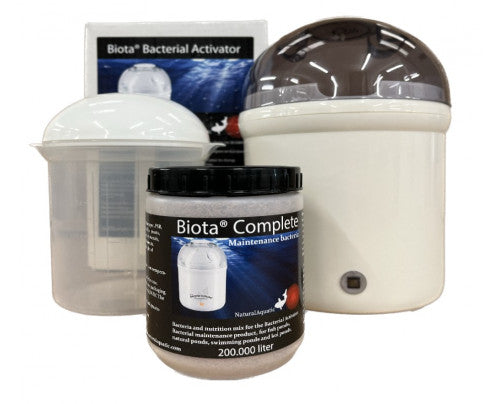 Biota Activator 200,000
Original price
£64.99
-
Original price
£64.99
Product Description
Biota Bacterial Activator 200,000ltr Filter Booster Kit
Improve your water quality with Biota Complete, a new and unique formula of bacteria, food and minerals, specially developed for the Biota Bacterial Activator. This blend of 12 carefully selected strains of bacteria, including Bacillus subtilis and other bacillus species, ensures clear and healthy pond water. The bacteria in Biota Complete breakdown waste and sludge, reduce the pathogenic load and reduce stress in fish by reducing the organic load. Unlike most liquid bacterial products on the market, Biota Complete contains true nitrifying bacteria such as Nitrobacter, along with heterotrophic strains of bacteria. By using the Biota Bacterial Activator, the bacterial strains in Biota Complete are activated, which significantly speeds up the nitrification process. This leads to rapid and significant reduction of ammonia and nitrite levels to safe values. The heterotrophic bacteria in Biota Complete is suitable for use in all forms of filtration with its ability to function both with and without oxygen. The bacillus strains produce various enzymes that promote the action of other bacteria. With Biota Complete you can enjoy the following benefits: Reduction and prevention of high nitrite and ammonia peaks. Reduction of high nitrate values. Decomposition of organic matter in both low-oxygen and oxygen-rich conditions. Support of the bacteria present through the production of enzymes This product comes complete with a refill, suitable for 200,000 liters of pond water. Choose Biota Complete and the Biota Bacterial Activator for a healthy and clear pond with optimal water quality.
Biota Complete 200,000ltr Filter Booster
Biota Complete is a complete mix of bacteria and nutrition which is used for the growth/activation of bacteria yourself by using the Biota bacterial activator.
By activating the bacteria, a unique living bacterial mixture is created. Biota Complete a total product to be used both as start-up and maintenance of garden ponds. For the reduction of nitrite, ammonia and organic waste. Can be used in the pond and filter.
Dosage:
Use 1 level measuring spoon (25ml) is enough for 10,000lt (2250 gallons) of pond water after 24 hours activation.
A maximum 125ml or 5 level measuring spoons can be activated in 1lt of water using the Biota Bacterial Activator.
This can be repeated weekly while readings persist. Maintenance dose can then be done on a monthly basis.
Dosage can be done as low as 5c.
During treatment switch off all UVc and ozone for at least 24 hours after treatment.
Keep out of the reach and sight of children. Store at room temperature in a dark place and wash hands after use.
Is delivery free?
We offer free delivery on the majority of our products over £50. This excludes live fish and bespoke filters. Delivery to UK mainland addresses is £3.95 as standard, or £6.95 for express.
How do I return a product?
Get in touch via email or phone and let us know your problem, we will then help as much as possible. A postage address will be given for you to return the product back to us, and postage will be refunded where applicable to our terms and conditions, which are in line with consumer rights.
At Steel City Koi, we offer a wide range of safe and secure payment options when shopping with us.
Accepted payment methods:
Debit/Credit Cards (Inc American Express)
BACS (for faster dispatch of products) please get in touch for this
Cash upon collection *only for live fish
Pay Later options currently include Klarna and Clearpay